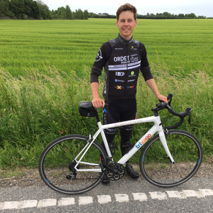 Created By:

Danny Jakobsen

Member Of Team:

Participating In:

Collecting for:
Biking for a world free of Multiple Sclerosis
Sklerose er ond og skal udryddes!
I starten af marts måned i år investerede jeg for første gang nogensinde i en fornuftig cykel, og gjorde samtidig missionen klar: Der skal cykles godt 740 km fra København til Düsseldorf, og der skal samles så mange penge ind til forskning i sklerose som overhovedet muligt. Det bliver hårdt, men det er desværre ingenting ved siden af den udfordring nuværende og kommende sklerose-ramte står overfor.
Selvom jeg måske godt kunne have brugt et par træningsuger mere, så har jeg gjort mit bedste til at komme i form til dette projekt. Efter utallige træninstimer kan jeg nu kigge tilbage på et par spændende og hårde måneder med en forkert indstillet cykel, en masse timer i regn og blæst, et par ben, der har været ømme stort set hele tiden, et sæt solbrændte arme og ikke mindst en helt enestående støtte fra venner, familie og et par virksomheder, som virkelig gør en forskel.
Når startsignalet lyder tirsdag d. 27 juni fra Go' Morgen Danmark-studiet, så er jeg helt klar på, at give alt hvad jeg har i en god sags tjeneste. Så skal der nemlig trampes i pedalerne! Mens jeg sveder ned gennem Danmark og Tyskland, så har du muligheden for at blive den vigtigste spiller på dette hold: Kilometer-sponsor.
At blive km-sponsor er den ultimative win-win
: Det er den bedste motivation for undertegnede til at fuldføre udfordringen. Det bringer os alle et skridt nærmere en verden uden sclerose og det gør det naturligvis endnu sjovere at følge vores vej mod Tour-starten. Der vil løbende blive sendt opdateringer til alle kilometer-sponsorer.
Hele turen bliver desuden livestreamet på projektets Facebookside, hvor der også løbende vil være interviews og mulighed for at vinde præmier, så følg med på
https://www.facebook.com/OrdetFangerDennisRitter/
TUSIND TAK!
------------------------------------------------------------------------------------
I am truly honored to take part in Ordet Fanger. What's better than combining a proper challenge with raising money for a good cause!
Mission: Increase awareness and raise money for Progressive MS while biking as a team from Copenhagen to Dusseldorf (750 km non-stop) with departure on June 27th.
People diagnosed with progressive MS have already waited way too long for solutions and if nothing changes, we are likely decades away from the necessary treatments.
You can become the most essential part of the team by signing up as km-sponsor - Meaning that you will donate a small amount per km I will complete. It's super easy and fun, plus you will get live update on the way! Every cent counts!
The race will be live streamed on the Facebook page so please follow along:
https://www.facebook.com/OrdetFangerDennisRitter/
Multiple Sclerosis (MS) is a chronic, often disabling disease that attacks the central nervous system. Progressive MS is also an incurable disease that attacks randomly and often without any warning. A minority of people with MS can continue life without complications or adjustments. A lot of them can't do much but stand by and watch their dreams for the future burst one by one.
Together we can fight MS!
Film about MS: https://www.youtube.com/watch?v=IQJL8uOCoyM
THANK YOU SO MUCH!
Foredrag

donated

8,000 kr.

Morten Storm

donated

250 kr.

Fordi Danny er for cool og skal støttes når han gør noget for en god sag.

Stefano Manzi

became a sponsor with

0.25 kr. per km

Great Danny, you're a legend!

Danny Jakobsen

registered

51 km

. The total sponsored amount is now

3,829.50 kr.

.

Matthias Kästner

became a sponsor with

0.25 kr. per km

Impressive. Hope you make the 737 km.

Martin Theißen

became a sponsor with

0.25 kr. per km

Danny Jakobsen

registered

54 km

. The total sponsored amount is now

3,829.50 kr.

.

Maren Alke

became a sponsor with

1 kr. per km

Mike Staal

became a sponsor with

0.25 kr. per km

Kicking-ass legend rockstar!

Ben MB

became a sponsor with

0.25 kr. per km

Natalia Waegter

became a sponsor with

0.25 kr. per km

Jeg opper lige de gode grunde til at trampe lidt videre i pedalerne ved at dobble op på støtten☺🚴💨

Anne Linnenbrügger

became a sponsor with

0.25 kr. per km

This is a very inspirational tour. You're going beyond what I can imagine to do (750km!!!) to help research fight against MS. Go, Danny, Go! This is legend!

Danny Jakobsen

registered

68 km

. The total sponsored amount is now

3,829.50 kr.

.

Tom Wægter

became a sponsor with

0.50 kr. per km

Så er det op på cyklen igen, dreng

Danny Jakobsen

registered

74 km

. The total sponsored amount is now

1,687 kr.

.

Majbritt Joensen

donated

250 kr.

Sejt👍

Danny Jakobsen:

Tusind tak for din donation, Majbritt. Den gør en kæmpe forskel! Tak!

Brian Jakobsen

became a sponsor with

1 kr. per km

Go min dreng, tro kan flytte bjerge

Sanna Lindholm

donated

250 kr.

Kristin Estil Jacobsen

became a sponsor with

0.25 kr. per km

You can do it Danny, go go go! :-D

Danny Jakobsen

registered

31 km

. The total sponsored amount is now

1,687 kr.

.

Danny Jakobsen

registered

51 km

. The total sponsored amount is now

1,687 kr.

.

Danny Jakobsen

registered

85 km

. The total sponsored amount is now

1,687 kr.

.

Anne Sørensen

became a sponsor with

0.25 kr. per km

Jeg er en kvinde på 65 år og har haft sclerose siden 1973. Jeg er som dig uddannet lærer, og arbejde til 1993. Jeg synes det er et supergodt initiativ i har taget og ønsker jer en rigtig god tur

Alessandro Devoto

became a sponsor with

0.25 kr. per km